The Curate's page
Rev'd. James Monro recently completed his curacy in the Saxon Shore Benefice and will be moving on to St. Edmund's Church, Hunstanton. Here is the most recent note he penned for this website:


Our sister churches
I enjoy travelling and have recently been fortunate enough to visit two of our sister Anglican churches in Tanzania and in the United States. As many of you will know, our Church of England is part of a global church family, the Anglican Communion. This comprises some forty-four autonomous bodies with the Archbishop of Canterbury as their spiritual head. In addition we in the Church of England are in a relationship of inter-communion with many other churches, including the Nordic and Baltic Lutheran Churches and the Mar Thoma Syrian Church of Malabar in India.

Most Anglican churches have their roots in the days of the British Empire, and the Anglican Church of Tanzania is no exception. British missionaries first arrived in East Africa in 1864, David Livingstone famously arriving on his travels two years later. Church growth has been spectacularly rapid ever since; indeed some 80% of Anglican Christians live in Sub-Saharan Africa. Ongoing evangelism often necessitates division at diocesan and parish levels for logistical reasons. The Province of Kenya and the Province of Tanzania were formed from the Province of East Africa in 1970. However, they now eschew the term province as this could imply that they are part of the Church of England overseas, as they were in colonial days, and not autonomous churches in their own right.

I was fortunate to first visit Msalato Theological College in the Diocese of Central Tanganyika as part of my training in 2011 to study how Christianity there relates to Islam and African Traditional Religion.

On that and my subsequent visits, the most recent being this January, my overwhelming impression has been of the vibrancy of peoples' Christian faith, strikingly reflected in both their worship and evangelism. The diocese was formed in 1979, and is ripe for division again having grown from some 200 to 600 parishes since then.

In the gospels we find Jesus on several occasions pointing out how the love of material possessions, and blind dependence on them, can come between us and our God. Maybe this is why the less wealthy East Africans have such faith and a growing church.

I paid a contrasting visit on my placement to the Diocese of Lexington in Kentucky last autumn. There in the world's richest country the tide is presently going out on the church, though as yet not nearly to the extent that has happened in Western Europe.

I was fortunate to be part of the church family at St. Philip's, Harrodsburg for six weeks, and received true Southern hospitality from both Fr. Peter Doddema and his congregation. The Episcopal Church of the United States (ECUSA) is another member of the Anglican family, and generously supports the church in Tanzania financially and with scholarships to its seminaries. Indeed my visit came about because the administrator of Msalato College is from Atlanta, Georgia, and put me in touch with her friend Bishop Hahn of Lexington!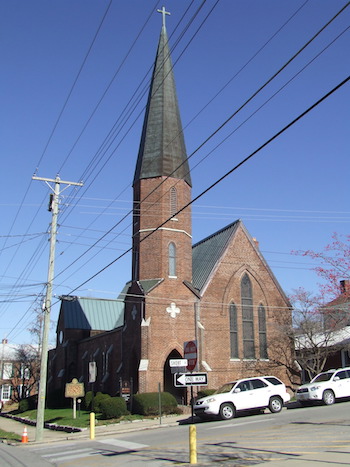 ECUSA, like the church in Tanzania, has its origins in the Church of England, but had to reorder itself after the War of Independence with the consecration of its first bishop in Scotland, rather than England, to avoid the Oath of Supremacy to King George III. There is certainly a flavour of the Episcopal Church of Scotland about ECUSA. ECUSA at the 14th largest is a minority denomination in the USA. This was reflected at St. Philip's with its 65 members compared with many more at the Southern Baptist church two blocks away. However, this was more than made up by the closeness of the congregation and its very strong social conscience. They are enthusiastic members of the town's food bank, and cook frequent community meals for the large numbers of unemployed in the neighbourhood. Thanksgiving was made memorable for me by joining in and preparing a huge amount of mashed potato for the 325 guests that were fed in the church hall that day.


St. Philip's has come a long way since its building was constructed in 1861, complete with the slave pews that can still be seen at right angles against the wall along the side aisle.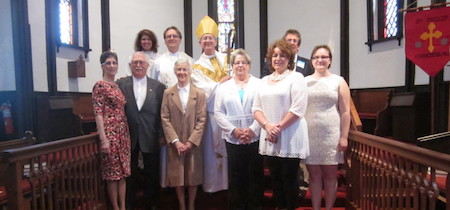 ECUSA's commendably strong social conscience, in the face of the country's huge gap between rich and poor, is not its only point of contrast with some of the other more conservative protestant churches in the USA, for it has a distinctly liberal theological agenda. We in the Church of England have so far been able to avoid schism over the ordination of women and issues around homosexuality. This has not been the case in the USA, and sadly there are now several other churches claiming to be Anglican. The largest of these is the Anglican Church of North America (ACNA). I was able to visit one of their congregations some 20 miles away in the town of Wilmore, and I was struck by the palpable hurt on both sides of the divide. Fortunately both ECUSA and ACNA had representatives at the recent meeting of primates in Canterbury.

We must continue to pray for Archbishop Justin and his efforts to maintain unity. I have learnt much on my travels to both these countries, but the most important thing for me has been the number of good friends that I have gained.
Water for Ilolo Village, Tanzania
Some of you may remember the presentation on Tanzania that I gave at my African evening in Holme-next-the-Sea Village hall back in 2012. I had been very struck by the hand dug well that I had seen at Ilolo. The picture that I projected showed sides that were crumbling and unsafe, with muddy water at the bottom contaminated by animal droppings.

It had been my intention to collect money to drill a borehole to tap into the plentiful aquifer beneath that part of Tanzania, but the country continues to develop apace. Recently the World Bank financed the drilling of fifteen massive wells for the city of Dodoma, and the new water main supplied by these runs four kilometers from the village.

When I was in Tanzania last May I learnt about a retired water engineer from Boston, Massachusetts, named appropriately Roger Stillwater, who visits the area periodically to work on water projects. Fortuitously I discovered that his sister-in-law lives in King's Lynn and he visits her on his way to Tanzania! We met in a pub in South Wootton in August, and I found out that he has useful contacts with officials from the local water utility (Dodoma Urban Water and Sewage Authority- DUWASA) who own the main in question. He was able to negotiate with them over a connection, and with the help of a fellow Tanzanian water engineer get the villagers to start digging the trench for a branch main.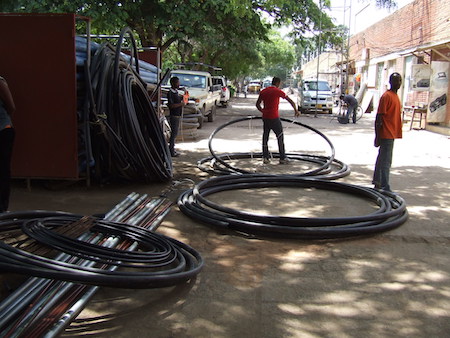 Your donations enabled me to buy the plastic piping and connectors to run the branch to the village as well as four standpipes. Two standpipes were installed while Roger was there but then work tailed off. I met up with Roger again this January in Dar-es-Salaam and we travelled up to Dodoma together.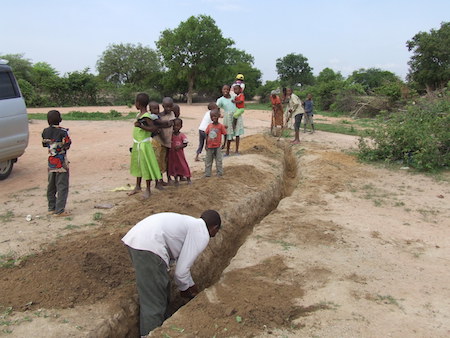 Our appearance reassured the village that more piping would be purchased, so the hard work of trench construction began again and I was able to see the third standpipe completed.






DUWASA have been slow on passing the pipes as satisfactory for the fourth but it should be connected soon. All they have to do now is fit their meter on the end. Each of the four distribution points has a meter and a committee to collect the money to pass onto DUWASA; at present the charge is 50 Tanzanian shillings (1.6p) for twenty-litres of clean safe water. Similar charges are collected at boreholes to set aside and pay for the inevitable future repairs: at Ilolo it is DUWASA's responsibility for to pay for repairs their side of the meters.




The women of Ilolo are delighted that they no longer have to walk miles for clean water, or scrabble in holes for the yellow/brown sort.



Thank you everyone for your kind help.
James Monro